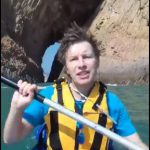 Welcome to "Simon's Jungle" – the website of author and explorer Simon Chapman.
Simon has been entertaining adults and children with stories of his real-life adventures since 2001.  He has recently returned from exploring the Djidji River in Gabon. Read the blog or watch the videos to find out what happened.
Browse the site to find quizzes,pictures and video of Simon's expeditions. You can buy the books by following links or follow Simon on Facebook and Twitter.